Evelyn Polk has H.E.A.R.T.

By ROBERT MCCOCKRAN/Times-Herald staff writer

Article Launched: 07/23/2007 01:45:02 PM PDT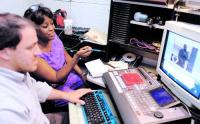 Adoption consultant Evelyn Polk, right, sits with video editor

Clayton Leander as the two work on a fundraising DVD at

a studio in Vallejo recently. (Mike Jory/Times-Herald)

Evelyn Polk is the founder and executive director of For a Child's H.E.A.R.T., Inc., which prepares parents and children for some of the challenges they might encounter as adoptive families.

"Sometimes I feel like we're setting people up, because these kids come with a lot of emotional baggage. Adults have baggage, as well, and when you put those two things together, a lot of times it blows apart if you don't have a lot of support after the adoption is finalized," Polk said in a recent interview.

"That's why I came up with For a Child's Heart - so it can help kids be stable," she said.

The letters in HEART signify Homes, Ethnicity, Advocacy, Resources and Training.

Polk said between undergraduate and graduate school, she worked for Children's Home Society - "one of the oldest adoption agencies in California," and then for Family Builders, which specializes in placing minority children and children with disabilities.

"One of my supervisors said, 'If you ever go into private practice, you need to specialize in these kids,' " she said.

Polk said she landed a job in the adoptions unit for Monterey County when she was in graduate school.

Her career goal was either to become a child psychologist or a pediatrician.

"People teased me. They said, 'I'm surprised you got away from there without bringing some kids home,'" she said.

Born in Oakland, Polk has lived in Vallejo for the past 11 years.

She said as an only child, she always wanted a lot of kids. She's single with no children by birth - but more than one by the heart.

"When I finished working with the county, I got this call and ended up adopting a child. He was 9 when I got him and had some issues," she said.

"He is now 27. I actually had another child that I fostered with the intent to adopt and I still call him my son. He is 23," Polk said. "I fostered two younger girls who ended up being adopted by another Solano County family."

Polk said she's seen every side of adoption.

"I've been the social worker. I've been the parent. I've been the therapist. I've also been the client because I went through a lot of trauma with my kids as a single parent - understood what was going on with them, the dynamics," she said.

"I also understand when I get cases that come through Child Protective Services - even biological families. One of my greatest joys is being able to work with the biological families as well as the foster family and having everybody work together as a unit to bring those kids back into a sense of wholeness," Polk said.

Over 15 years, H.E.A.R.T.'s primary service has been counseling but it's also become a mentoring agency for Fighting Back Partnership. It matches kids with mentors and also includes a tutoring program to help kids excel in school.

"A lot of times if they are behind in school they get labeled 'special education' - not because of their brain, but because of their emotional development," Polk said.

"The key is to give them as much as they want and see if they are able to catch up or attain a certain level of academic achievement," she said.

Several years ago, Polk said, she got a grant from the Solano County Arts Council to do an art therapy program.

"I coupled a therapist intern with a professional artist," she said.

Polk said some children are not verbally expressive, but they express themselves in other ways.

"The artist did the hands on - the claywork, water colors, (etc.). Then, the therapist would observe what was going on and interact with the child as he did it," she said.

These days, Polk said, she is sort of standing back and wondering "Where do I go with H.E.A.R.T. at this point?"

"I'm sort of in transition. Several things have happened over the past six months. I lost my mom and one of my closest friends, who also is an adoptive parent, passed three days after I buried my mom and that has really taken a toll on me," she said.

A primary goal, she said, is to make sure kids remain stable and that they experience a sense of belonging.

"(There are) kids who've lived in 50 homes by the time they're 15. That is pathetic. They don't trust anyone and that affects their relationships and their adulthood," Polk said.


Troubled child becomes success story

Continentals of Omega member know importance of taking responsibility for self

By SARA STROUD/Times-Herald staff writer

Article Launched: 01/07/2008 07:44:49 AM PST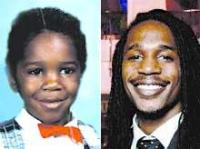 People who knew Kevin Brown as a child may be surprised to meet the driven, accomplished man he is today.

Raised in foster care from infancy, Brown said he remembers being conscious of always moving and having to get used to new places. The only constant in his early life was his older sister, Keyana, to whom he was deeply attached.

"In a sense my life starts at age 5," Brown said. That's when he and his sister went to live with Mary Jackson in Vallejo's Country Club Crest neighborhood.

"Mary Jackson is an angel of mine. She's the closest thing to a mother I have," said Brown, who now lives in Atlanta and recently graduated from Clark Atlanta University with a double major in business and fashion design.

But even with Jackson's support, Brown said he acted out and had extreme behavioral issues, though he did well academically.

Then, when he was 7, he joined the Continentals of Omega Boys and Girls Club.

"He was a big problem," said the club's founder Philmore Graham. But Brown's sharp mind was apparent to everyone at the Boys and Girls Club

.

"I did not like the kid and he knew that," said Marjorie Burton, the club's academic director, of her first run-ins with Brown. "But I kept going to make sure he was one we weren't going to lose."

Graham started working with Brown one-on-one and urging him forward academically.

Kevin Andre Yashim Brown

Age: 23

Hometown: Vallejo.

Family: Keyana Brown, sister; Mary Jackson, foster mother.

Interests: drawing, basketball, fashion.

Quote: "The decisions I make will determine the life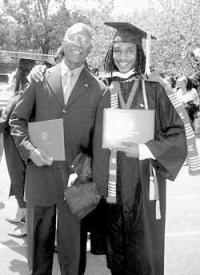 Kevin Brown, with his mentor, Philmore Graham, of the Continentals of Omega Boys and Girls Club, at Brown's May 2007 graduation from Clark Atlanta University. (Courtesy photo) I have."

He challenged me and nurtured me in a nonjudgmental way. I learned being well-behaved has better rewards," Brown said.

Brown continued going to the Boys and Girls Club every day, and participated in the Mighty Oaks Torch Club and Keystone Leadership Group.

At Jesse Bethel High School, Brown played basketball and was a good student. He hadn't thought he could go to a four-year university, but in his senior year, Carrie Wilson, one of his teachers, told him, "You're going to college," Brown said.

Wilson helped Brown with the application process, and by the end of the year he had been accepted to more than 25 schools, he said.

Brown said he chose Atlanta partly to get away from his troubled neighborhood. "I wanted to go off and make it on my own, to get as far away as I could and live the life I imagined for myself," he said.

Brown played college basketball and graduated with honors from Clark. He was accepted to graduate school for business in London, but said he hasn't gone yet for financial reasons.

Today, he works as an art director for an ad agency and is writing a book about his life growing up in the foster system.

Brown said, as a young black man from a foster home, he has beat staggering odds to get where he is today and wants to lead by example.

And, though he's thankful for all the people who helped him along the way, he said he realized early on that he had to take responsibility for himself and his decisions.

"If you're willing to help yourself, people will help you," he said.

Graham, who said Brown is an inspiration to him, agreed.

"It was in his pocket," Graham said. "He just needed to pull it out. I just helped him."

• E-mail Sara Stroud at sstroud@thnewsnet.com or call 553-6833.

As you can see 2008 appears to be an even more promising year for us and we look forward to sharing it with you!

Speaking of promising, we're so excited to be able to continue our "bragging rights" about current/former foster youth who are overcoming the odds, which gives us that added boost to jump into this year in full force in continuing the vision of  HEART. Look at how some of our young "hearts" are making the headlines! 

And please keep HEART and our young people in mind and in heart when you decide to make a contribution of your time and resources this year.                                                                         

                                                                                                     Sade's Story: An Update

                                                                                                       S.F.  Chronicle 1/2/08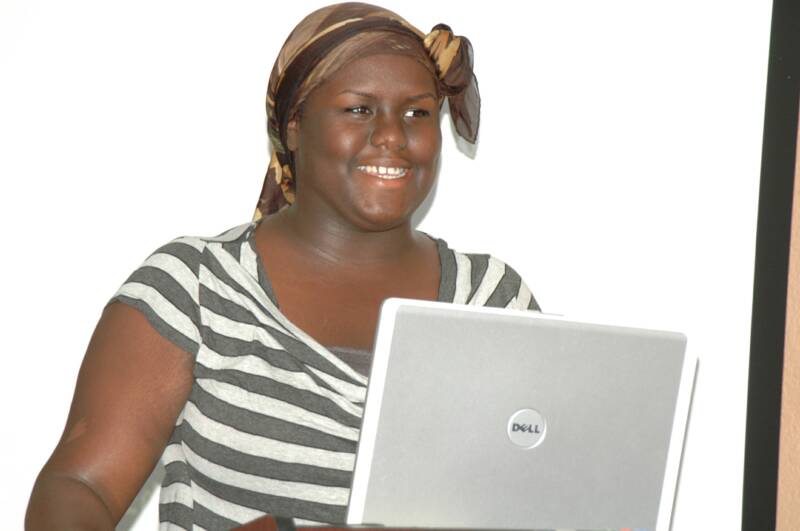 When we last spoke to Sade Daniels, the 18-year-old former foster youth was making nervous preparations for her first semester at Clark Atlanta University. The nervousness would be familiar to any parent who's ever sent a child to a new school: She was full of questions like: Will I make any friends? Will I like my teachers? Will I like going to a new place? The difference, of course, is that for most of her life Daniels has had to offer the comforting responses to her own questions. The stakes were even higher this time: Daniels was leaving behind everything and everyone she knew in Oakland to pursue a big dream in a new, unknown city. Nationwide, less than 5 percent of former foster children finish college.

Daniels' first semester proved to be a rough transition. She struggled to negotiate her own class schedule and financial arrangements. "I didn't feel like [Clark Atlanta University officials] had a lot of sympathy for my situation," she said. She looked for someone to help guide her on things like class selection but found no one - "There's not a lot of guidance counselors there, or if there are, they're hiding," she said.

She also found it difficult to be away from home, she said, even though "I know it's good for me to be away. I'm learning things about myself that I wouldn't have learned if I'd stayed here." One of the things she's learning, for example, is that she's not a "partyer" like many of her classmates. "My mind's in a different place," she said. "Atlanta is a real nightlife city, but I'm not too into the clubs. I really prefer to be doing things like advocacy work."

But Daniels' biggest challenge was one she couldn't have anticipated. "When I got to campus and went to the orientation, everyone else had a family," she said. "For the first time in a very long time, I felt like I wasn't good enough, like I was nobody. And I just...wasn't expecting that. I thought that now, I'm out of [foster care] and I'm not a kid anymore, so I should be past those feelings. I guess I was lying to myself."

She was lying to others, too. Most of the students she met had no knowledge of foster care. None of them had family stories like hers. Seeking to avoid judgment, Sade invented a story for herself. "I told everyone that my mom was a heart surgeon and my dad was a district attorney," she said. "I've got a couple of good friends who know the truth." And there are a couple of outsiders who know the truth as well, like a roommate's friend who happened to pick up a copy of The Chronicle that Daniels had left on her bed.

"I know I won't be able to keep lying forever," Daniels said. "It's just...I felt so bad about not having what these other kids had."

What helps when she's feeling bad, Daniels said, is you - our readers.

You sent her letters and notes of encouragement. "I look at those letters during hard times," Daniels said.

You told her that you believe in her, and you put those beliefs into action: You've donated nearly $13,000 for Daniels' education. We couldn't be more grateful to you, and neither could Daniels.

"Knowing that so many people are rooting for me gives me the courage to keep at it," she said.

Still

(A Poem Written by Sade)

The point still was

that I'm the first person in my family to reach toward a post-secondary education

And alone, that statement, is enough to stagger through my days with

The stress and pressure it takes to lead can sometimes feel like the worst

Making me wish I could follow a set path and not have to be a first

But with the heaviness I feel comes an obligation of adulthood

And though I know it should bring hope and I wish it could

I still feel misunderstood but now without the benefit to speak on it

I'm grown now, that means I'm on my own now

Whatever happened in my past should be gone now, right?

But I still live with the same fear, the same loneliness, the same hatred

And I still feel like I'm too close to failure no matter how many times I'm dubbed 'the one who made it'

And sometimes, even as a grown woman, this is still too much to bear

So I guess my point is that I'm still scared

~ Sade Daniels

The Chronicle's first editorial on Sade Daniels appeared in September 2005. Links to that and other editorials on California's foster-care system can be found at  
www.sfgate.com/opinio
n
Introducing you to the latest excitement buzzing around the Literary Dept of Les Brown Enterprises.  We recently met Kevin Brown (no relation to Les Brown), a promising young entrepreneur, upon his return from London, where he furthered his Fashion Design studies after graduating with degrees in Fashion Design/ Merchandising and Business Administration from Clark Atlanta University.  However, things didn't always shine for this Magna Cum Laude and National Business Honor Society student.  As his soon-to-be-released book reveals, spending his entire life as a foster child left a lot of internal scars to be mended and self-esteem to be awakened.

As a 2005 Recipient of The Les Brown Heart of Dreams and Tenacity Award, Kevin came into knowledge of the similar beginnings he and Les shared - both abandoned as infants.  Kevin also aspires, as Les does, to empower youth to realize the greatness within them, no matter what their circumstances.

This zealous 23-year-old has specific goals in place to create multiple streams of income to usher in his multi-millionaire status by age 27.  He will then use his wealth to help improve the United States foster care system.

Meet Kevin A. Y. Brown!




National figures indicate approximately 500,000 young people live in foster care. They are removed from their homes when the courts determine that they've been abused or neglected by their parents, or when poverty, death, illness or other circumstances beyond their control prevent their biological parents from properly caring for them.  Some are adopted out of the foster care system.  Unfortunately, many spend months or even years in foster care, often lacking stability in their lives and a sense of direction.

Kevin A. Y.  Brown grew up in that foster care circuit all his life. The fact that he rose from a life of rejection, and physical and sexual abuse - as a baby with cocaine in his system; as a defiant child placed in a psychiatric ward; and as an older child passed from home to home - to become magna cum laude college graduate with a double major, is living proof that life is only 5% of what happens to you and 95% of how you react to it.  

Equipped with strong determination and perseverance, this budding entrepreneur is traveling the country with a story to tell and encouragement to share with young people who have no hope.

Kevin's vision is to help young people believe in themselves, focus on the greatness within, and most of all, LIVE A LIFE WITHOUT EXCUSES!

Coming in

Spring 2008...

Kevin's  autobiography

Foreword by

Les Brown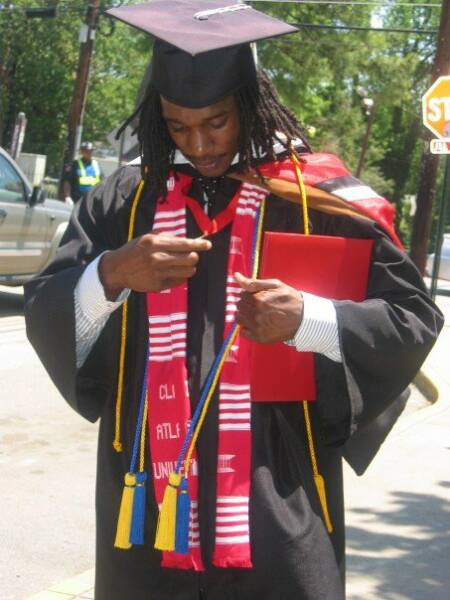 Graduation Day:

Clark Atlanta University,  May 2007

If you would like to be on the distribution

list for this book, please send your name, address, phone number and email address to: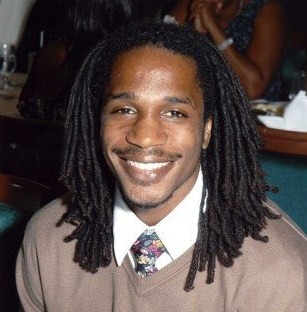 Vacaville Reporter

Nebraska events reveal wider need

Posted: 11/30/2008 01:01:23 AM PST

I read once that mothers everywhere are idealized, particularly in the Western culture. Mothers are represented as a reservoir of endless compassion, love and suffering. However, no one really knows what goes on in the shadows between mothers -- or parents -- and their children. This was the thought behind Nebraska's implementation of a safe-haven law.

Many of us may have read that since September, parents, some from other states and even a mother from California, were dropping off their children or teens at Omaha hospitals under Nebraska's safe-haven law. And while the intent of the law was to prevent infants from being abandoned in dumpsters or other dangerous places, none of the 34 children who were left at hospitals were infants.

The majority of the abandoned kids were reported to have a history of mental illness, and 90 percent of the parents or guardians had sought state services for them before. However, a psychiatrist and representative for the Nebraska Psychiatric Association who spoke on the issue, said that not enough facilities for troubled youngsters exist.

The Nebraska law has since been changed to limit drop-offs to infants no more than 30 days old. However, I agree with Sen. Dianna Schimek of Lincoln, that we've uncovered a problem that needs to be addressed and that it is not limited to Nebraska.

Last week, I talked with Evelyn Polk, founder and executive director of Vallejo-based

For a Child's H.E.A.R.T., Inc., about the situation in Nebraska. Her organization prepares parents and children for some of the challenges they might encounter as foster families. She does this through individual and family counseling, support groups, workshops and other vital services.

Polk said rather than judge the mothers or parents who dropped off their children, we must look at the hopelessness and frustration they felt in dealing with children with emotional and behavioral challenges. We must also realize that many parents right here in Solano County experience similar feelings.

In many situations, parents are not aware of the available services to help them, nor do they know how to cut through the proverbial red tape to access them. Polk's organization offers this information and other available resources to parents.

She highly recommends individualized and comprehensive counseling for both parents and children. Both the parent and the child should be allowed to vent their feelings and feel empowered in doing so. The goal should always be to reunite parents with their child, if at all possible.

Polk's a big fan of mentorship programs and communities making a long-term commitment to adopt a family. Everything cannot be entirely left to the government. We must take a look at Children's Network and Family Resource Centers and what we can do ourselves.

Some parents might be looking for a legal way out of parenthood that makes them feel a little less guilty, Polk said. However, the situation in Nebraska has been brought to the forefront and signals that many parents are genuinely struggling.

This month is National Adoption Awareness Month, and during this time, we are made aware of the need for adoptive families for foster care children. And while its primary focus is on the adoption of children currently in foster care, we now have additional children in the system in response to Nebraska's previous safe-haven law.

In Solano County and across the country, we must continue to be sensitive to the needs of the children, the family and the village. For more information about Polk's organization,

visit www.forachildsheart.org.

The author is a Vacaville resident whose column appears every other week in Your Forum.

E-mail: damitchell@earthlink.net.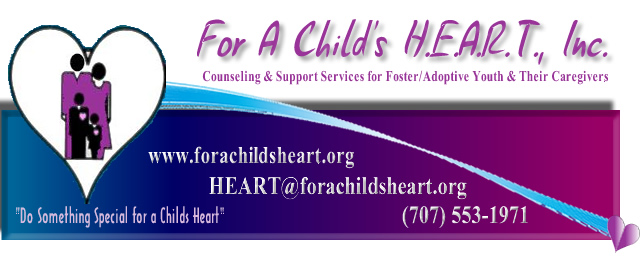 Reprinted From:  Fostering Families TODAY — May 2011

It Takes A Village, With H.E.A.R.T., To Raise A Child

Shay Olivarria

Evelyn Polk wants every child experiencing foster care and/or adoption to feel understood, appreciated and loved. She began For a Child's H. E.A.R.T. after adopting an older child from foster care and attempted to adopt another child while growing the non-profit.She is working hard to provide the tools, resources and support to families that are transitioning from foster care to adoption so that "the villagers" can step into their new roles with confidence.It takes a lot of work, what Polk calls "H.E.A.R.T. work," for a village to raise a child.

When you're in the foster care system, you often feel alone.You feel like no one cares about you and no one listens to you. I wish I had met Polk when I was about 16 years old.Unfortunately, I didn't meet Polk until I was an adult still dealing with the many emotional issues that were exacerbated by my time in care. I have read her book, "It's H.E.A.R.T. Work: Being the Village That Raises a Child," been a guest on her television show "Visions for a Child's H.E.A.R.T.," and spent many hours chatting with her over dinners and homemade smoothies. Polk is exactly the person you want in your corner regardless of if you're a child Going through "the system" or an adult advocating and caring for a child in care.

She says, "when I started it [For a Child's H.E.A.R.T.] little did I know I would need the services more than anyone else." It's possible that she's so helpful because she has experienced working with children in foster care and she has experienced being an adoptive parent. Polk dealt with children being defiant, therapists trying to put her children on drugs to control their outbursts, and the younger child taking on the habits of the older one.

THERE ARE NO BAD CHILDREN

The idea to start a non-profit that would provide counseling services to youth and adults Involved in foster care and adoption, mentoring to families, foster pride events, and on-going support to youth that were in care but have aged out began while driving home from a committee meeting to recruit adoptive parents. She wanted potential parents and kids to be prepared for the challenges of adoption. Too often she saw children returned to temporary placements because the child, the adults, or both simply gave up. "Other caregivers did not have the skills, resources, tools or support to help the village not give up," she says.

Children act in challenging ways because they are dealing with challenging situations the best way they know how. Adults respond to the children's behavior In a myriad of different ways, many times not acknowledging that they are responding not only from a place of professionalism, but also from their own experiences. Polk helps families focus on how their own emotions are causing them to act, or respond, in certain ways. It isn't until we can take a critical look at our own issues that we can act with love and compassion toward others, Polk says.

Sometimes that help comes from others who have been in similar situations. Polk believes that no matter how much, or how little knowledge and experience foster parents think they have, they can still be of service to someone else. That's why she began the television and radio shows that she hosts. She gives those of us who grew up in care a place to share experiences and suggestions for improving foster care and adoption. For those of us who work with children in care or are part of families that include kids in care being able to see and hear examples of challenges others have had and ways they've moved past those challenges gives us inspiration and hope.

IT TAKES H.E.A.R.T. WORK

Being involved with the foster care/adoption systems in any Way can be exhausting. If it isn't the paperwork, it's the behaviors of the people who you deal with.

When you feel frustrated, upset or wrung-out you need to have a support system to turn to. That's where For a Child's H.E.A.R.T. steps in. Polk's organization is a resource for families across the country. By providing counseling, mentoring, scholarships, television shows, radio shows, and sometimes a last resource for those with limited resources, Polk strives to provide support in whichever form you may need it. Sometimes, that support comes via television.

Polk makes an impression with everyone she meets, whether in person or on air.

Jacquinn Scales is a college student in Atlanta and met Polk when flipping through channels on television in California's Bay Area, "I waited until the end of the show when she revealed how to get in contact with her. Now keep in mind it was about 9 p.m. and I knew she wouldn't be at her office phone yet, however I placed a call to her and informed her that I just saw her on TV and I left my contact information.About a week later she called me back. Since then, I feel as though my bond with Evelyn has been very uplifting and I believe it's Because of her caring and genuine heart," Scales said.

When one of her sons was small, he once told her that she made his heart warm. The phrase touched her and now she works to make sure that everyone she comes in contact with feels warmed that way. She's so fond of hearts that she calls people involved with For a Child's H. E.A.R.T. "hearts." She takes her motto seriously and her office is strewn with plush hearts and macaroni hearts that clients and friends have given her throughout the years.

Scales says, "I have encountered scores of people who claim to be 'advocates' and 'supporters' of foster care but Evelyn by far has the kindest spirit. I can and have called on Evelyn for various forms of assistance and she has been very supportive. In addition it is worth mentioning that she won't hesitate to chastise me and call me out when I have made mistakes. Yet she does those things and manages to always provide constructive criticism."

That's what Polk does best.She'll give you what you need, though it may not always be what you want. She's a straight talker who is honest with those Around her.