January - February 2008

2007 was an extraordinary year for HEART, it's founder/director and it's youth as you can see from our News/Events page

Thank you all who supported us throughout the year in 2007, and A SPECIAL THANK YOU TO VALERO BENICIA REFINERY who has already, in 2008, exceeded their past 2 years' support of HEART with a donation of $15,000 presented to us on January 17th!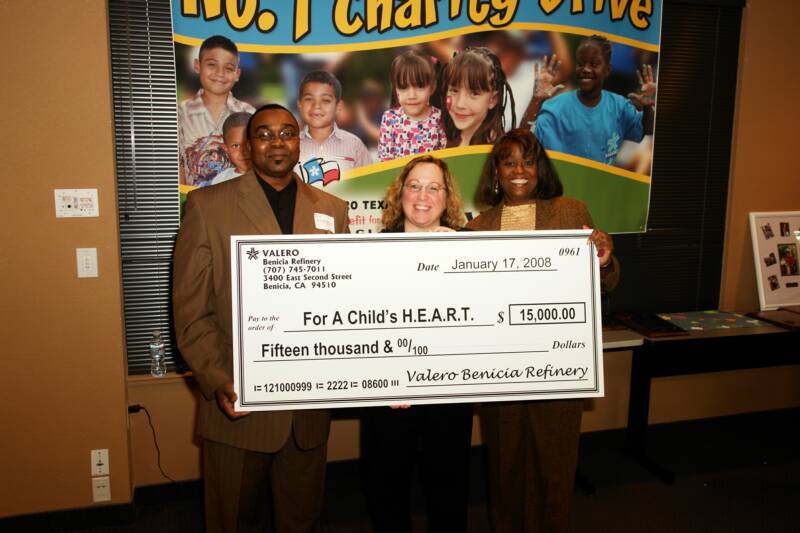 May 2008

Graduation & National Foster Care Month

Where has the time gone?! 

The new year has come and settled, the school year is almost over, and another group of our "hearts" are transitioning into adulthood!  It hardly seems that it has been a year ago already that we celebrated the graduation of our first college graduate, and recognized 8 Class of 2007 High School graduates.

Well it's that time of year again, and we're more excited than ever!

HEART is getting stronger and better as we begin our 2008 National Foster Care Month celebration on the morning of Saturday, May 31st with "Foster Pride & Empowerment:  Stepping Into Our Greatness" a Self Development & Motivational Workshop for current and transitioning foster youth between the ages 15 and 25.

Going through this process developed by Motivational Speaker and former foster child,

Les Brown participants are guaranteed to have a life changing experience.

Come back next month to witness the testimonials.

During the evening we will share a beautifully prepared dinner by Events Planning Plus as we honor our graduates, and other current, transitioning, and former foster youth

who have demonstrated progressive efforts towards positive growth and achievement.

We will also honor adults in the community whose caring have contributed to their success.

There will be plenty of food, music, fun and love in the house- -not to mention a few surprises!  You won't want to miss it!

To purchase tickets or be a sponsor please see our home page.

Village Member, Mr. Philmore Graham Honored

On Saturday, May 10th HEART had the awesome joy and privilege to witness and participate in a tribute to Mr. Philmore Graham, Founder of Vallejo's

Continental of Omega's Boys & Girls Club.

Having mentored many youth in Vallejo for more than 30 years, Mr. Graham was presented with many accolades and awards from community members and dignitaries.

In behalf of For A Child's H.E.A.R.T., Ms. Evelyn and foster care alumnae, Kevin Brown were honored to be able to present Mr. Graham with our " Heart of The Village" award for being a consistent and caring figure in the life of a foster child.

In presenting the award ,Ms. Evelyn recalled the heartfelt moment of, along with Mr. Graham, attending Kevin's graduation from Clark-Atlanta University last year, and through the tears of joy looking at one another realizing that "we are the village" that's raised a child.

The award had originally been slated for presentation at our Foster Pride Celebration & Awards Dinner on May 31st.  However, we wanted the community at large to be aware of the importance and impact of being "the village" for our foster youth.

Although Mr. Graham received his award early, he won't leave empty-handed on May 31st.

In addition to his foster/adopted son, Montoya Graham being

our keynote speaker, we have yet another surprise for him! 

We invite you to come out and see what else we have in store for him and others!

We look forward to seeing you there!

COMING SOON!

Benefit Compilation Music CD

Ms. Evelyn's long talked about dream of putting together a benefit compilation

CD for HEART is  finally almost here!

The CD entitled:  "Friends With HEART:  It Takes A Village- Volume I "

is scheduled for a release date of 5/31/08 just in time for our Annual Foster Pride Celebration/Awards Dinner to be held on the same date.

Some of her favorite musicians both local and world renowned have expressed an interest and willingness to contribute to this project and we are very excited!

The idea/purpose of the compilation benefit  CD is three-fold:

1.  To generate funds for the provision of services to foster/adoptive

youth and families, which include:Counseling, mentoring, tutoring, academic

and transitional living scholarships, respite care,  music and creative arts, to name a few;

2.  To promote a cross-generational sharing of music appreciation and family listening  by creating an  eclectic mixture of music styles/genres (Jazz, Gospel, R&B, Hip-Hop, etc) which will appeal to all  family members, fostering a sense of togetherness, POSITIVE thinking and motivation, and creating positive childhood  and family memories and associations.

3.  To raise awareness and support of the ongoing challenges/needs of children right here in our own communities and the adults who care for them.

Come prepared to purchase your copy hot of the press for $15.00 on May 31st

and hear some of the contributing artists perform live!

If for some reason you miss it, come back to our website Products page after June 7th and purchase online.

The online cost will be $20.00

This can be a great Graduation or Father's Day gift!

June 2008

FOSTER PRIDE ACTIVITIES:

In recognition of National Foster Care Month in May we celebrated with

two events to empower and honor our youth this year.

Foster Pride & Empowerment Workshop:  Stepping Into Our Greatness

This 7 -1/2 hour workshop, adapted from the curriculum of

Motivational Speaker Les Brown's "Get out of Your Head

and Step Into Your Greatness" seminar, took an unexpected turn,

and turned out even greater than anticipated!

As Ms. Evelyn, along with guest facilitators Mr. Wade Randolph of Richmond, VA

and Mr. Dan Smith of Modesto, CA led current and former foster youth through

a process of self acknowledgement, acceptance and empowerment, they too stepped into an even greater vision of greatness in the unity of collaborative teamwork!

This is what they, and some workshop participants had to say:

"My goal in a workshop is to make it impossible for any participant to return to the state they were in before the workshop. In other words they leave a different person than which they came. We accomplished that, every single participant got it down to the fiber of their being.

The energy and collaboration between Evelyn, Wade and myself, produced a better workshop than any of us could have done alone. We pushed each other, we expanded each other and we produced complete ideas that previously only existed as fragments in our individual minds, and best of all we had a lot of fun!"  ~Dan Smith

"Our joint team work made the event an outstanding success.  The three of us worked together like a well oiled machine.  What was really gratifying, at the end of the event each participant took time to express how much value, inspiration, and new ideas they gained from spending the day with us. That's teamwork! "  ~Wade Randolph

"I got a lot out of it and am glad I came.  I learned that some other kids have gone through worse things than me; that none of those things can stop us from doing what it is we want to do; and that there are people who want to help us" 

~JS , Emancipating Foster Youth

"I sat in on the latter part of the workshop as participants created and presented their vision board.  I was impressed when they began to write out their goal sheets and action plans, with intensive and thought-provoking coaching by the facilitators. When I was growing up we were taught to get an education and get a job, but no one taught us how to dream, believe and achieve those dreams.  I would liked to have participated in the workshop myself. The affirmation "You have the power to live your dreams!"  continues to stick with me" .  ~Tommie Brown, Jr. (Board Member)

"The Saturday I spent at the "Stepping Into Our Greatness" workshop reminds me why my faith keeps me on my knees instead of on my feet.To explain this, I sometimes think I'm entitled to understand why the Lord does anything.  So picture me with my hands on my hips, standing there looking up at God with a question in my face. 

I came into the workshop thinking that I would be helping facilitate the experience of others and I was a little let down because I did not want to stay in the periphery.

But I swallowed my pride and got on my knees as the Servant that God wants me to be. That is when he rewarded me. I was humbled by the strong spirits I was introduced to and I am again grateful to have lived another day to see -- what Beauty exists in a quiet but extraordinary young man; I was overjoyed to bear witness to a strong young lady stepping into her Greatness before my very eyes!  Hope and Acceptance came in the form of an adult couple.  Inspiration and Perseverance were in the facilitators.  Trust was named "E". And Humble came in the form of a Princess. My name that day was Renewed"

~Maria Luisa Jimenez (Former Foster Youth)

There's not much more to be said, except look out and be ready for the next one!

Foster Pride Celebration & Awards Dinner

Following a full day of discovering and embracing their greatness, current and former foster youth were joined by extended "family members"  from the community or "village" to share a deliciously prepared and beautifully presented meal catered by

Scholarships, totaling more than $6,000 were awarded to graduating and transitioning youth and college students, made possible by generous donations and

sponsorship from Benicia Valero Refinery.

Adult members of "the village" were also acknowledged and awarded for their contributions both to "H.E.A.R.T." and the foster youth in our communities. A special award was presented to Mr. Philmore Graham, Founder of the Vallejo Continentals of Omega Boys & Girls Club, and also the proud father of our keynote speaker Montoya Graham.  This "Bringing The Village Home" Award in honor of Mr. Graham and his late wife, Jamela Graham, will become an annual award given in their honor to those who not only work with youth in their communities, but who also offer and commit their lives and

homes permanently to foster youth in need of a loving and stable family. 

After that emotional presentation we got to hear from the younger "Mr. Graham" as he told our youth to "Be Like A Bee" in defying the odds of circumstances and "fly anyway"!  He also shared with the audience how despite his angry and delinquent behaviors, the love, consistence and reminder of his greatness from his foster/adoptive family propelled him from being an angry, failing student to a Masters degree recipient who is now a

mentor to other challenged youth.

A special surprise included a video message via webcast from

Motivational Speaker and former foster child/adoptee himself,

Mr.
Les Brown
, congratulating the youth scholarship and award recipients (including recipient of the Les Brown Heart of Dreams & Tenacity Award,
Ms. Elizabeth DeFreece
)
and the adults who support them.  As only "Ms. Mamie Brown's Baby Boy"

can do he quickly inspired and humored the audience as he also thanked

Ms. Evelyn for taking good care of him as his babysitter when he was a little boy!  

A special thanks to
Carla Juell, Community Relations Manager at Benicia Valero Refinery;
Kim Wattles
and the administration of 
Springbrook Masonic Temple
; 
Kevin Humphrey, Jackie Nelson and Steve,
of
Kevin Humphrey Productions
; and
And thank you to all who made donations and/or came out to support us for another wonderful event in doing something special "for a child's heart"

NEW CARDS ADDED To HEART Talk GREETING CARD LINE

As an additional honor to Mr. Philmore Graham, who has been the mentor of our own "poster child" Kevin Brown, since Kevin was an 8 year old boy, we've added two "Mentor" and "Mentee" cards to our greeting card line featuring a photo of the two at

Kevin's college graduation from Clark-Atlanta University. 

A portion of the proceeds from the sales of these two cards will go to the

Vallejo Continental of Omegas Boys & Girls Club.

Please support us, as we are all a part of the "Village" that has raised and

continues to raise a child. 

To purchase these and other HEART Talk Products go to

MUSIC COMPILATION BENEFIT CD PROJECT RELEASED:

The "Village" is on a roll and we're rockin', poppin' and praising'

with the release of our greatly anticipated Music CD project entitled :

"Friends With Heart:  We Are The Village- Volume 1"

This 18-track music CD brings together an awesome mixture of musical artists whose artistry will appeal to the likings of both young and "mature" fans of Gospel,

Jazz, R&B, Blues, Pop and and Hip-Hop, all with a POSITIVE message.

The idea of the compilation CD is to promote a cross-generational sharing of music appreciation and family listening  by creating an  eclectic mixture of music styles/genres which will appeal to all  family members, fostering a sense of togetherness,

and creating positive childhood  and family memories and associations.

At the same time, purchase of this CD will generate funds for the continued provision of services to foster/adoptive youth and families (counseling, mentoring, tutoring, academic and transitional living scholarships, music and creative arts, to name a few);

and raise awareness and support of the ongoing challenges/needs of children

right here in our own communities and the adults who care for them.

Featured artists include:

Amar Matani

Calvin Lymos

Jeanine

Kween

There is also a "Bonus Track" by
Grammy award
winning, producer, songwriter and musician,
Narada Michael Walden
, downloadable from our website
with purchase of the "Friends With Heart..." CD.

Check back for next month's newsletter, with "listener reviews", or better yet,

purchase the CD and submit your own review for our readers to see!

Kevin B. Continues His Journey on The Road to Success

Of course no "HEART" update would be complete without a word about our boy Kevin!

Our very first University graduate, Kevin Brown, is about to embark upon

yet another journey this summer. 

Having landed an internship at Parish Nation Design House and

completing a very promising interview with MTV,

Kevin will be relocating to New York City next month to fulfill his dreams!  

Although unable to take credit for the foundation of his success, Ms. Evelyn finds it very hard to be objective about this "heart" of her's, who also happens to be the key model featured on the majority of the HEART Talk Greeting card products right now. 

"My heart just swells with  maternal pride (and laughter)

to watch him in action" she says with a smile.

Unfortunately, Kevin had to say "goodbye" to the mother he's known

and lived with for most of his childhood.

Ms. Mary Elizabeth Jackson passed away in May. You may remember

seeing the lady with beautiful white cotton dreads.

We're going to miss her very much, and we're so glad that we had the

opportunity to honor her and the fruit of her labor and

that she was able to witness Kevin's receipt of his two college degrees

and the 2005 Les Brown Heart of Dreams & Tenacity Award. She and her two adult daughters, who are also foster/adoptive parents, were recipient of our

2006 Extended Heart Foster Family Award.

And like the "bee" Montoya made reference to during his Foster Pride message, Kevin continues to be defy the odds of his circumstances and keeps on flying.

Just call him  "Kevin Bee" (:

Love you Kev!

(If
you would like to make a special contribution to Kevin's continued pursuit of greatness as he makes his big move to New York, or you know of resources which might be useful for him there, please send an e-mail to  HEART@forachildsheart.org
with "Kevin Bee Flies to NY" in the subject line :)








The weather temperatures may not have soared very high

this summer, but as you can see from our update, it's  been

"Hot Fun In The Summertime"  for "H.E.A.R.T."  !

Summer Kick-Off : Tee On The Green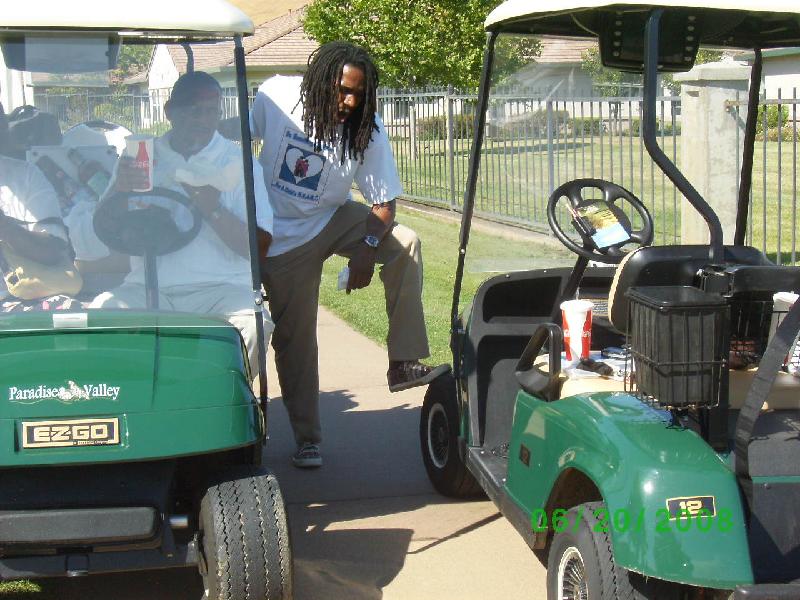 The summer got off to a great start on the green, as HEART, for the second year was sponsored by Ms. Carla Juell for the Valero Contractors Safety Forum Annual Charity Golf Tournament. The event took place on Friday June 20th at Rancho Solano and Paradise Valley golf courses in Fairfield, CA. 

The all-day event was full of laughter as we were joined by HEART volunteers, Lisa Bryant and Kevin Humphrey, and scholarship recipients Kevin and Vina. If you want to get a

real up close and personal recount of the day's events along with a good belly laugh, ask either of them about it when you see them at our next event. (:

The day ended with a wonderfully prepared buffet dinner at the Rancho Solano Club House and a check in the amount of $3,000.00!   Thank you Carla for believing in and supporting us!

S.F. Radio Station and AT&T Community Spotlight/Donation

On the morning of July 16th Ms. Evelyn was contacted by
S.F. Radio Station KNGY - Energy 92.7FM
to inform her that she had been selected as their Community Spotlight winner of the Week.  
Energy 92.7 and AT&T Community Spotlight
"recognizes and celebrates people and organizations that represent the very best of the S.F. Bay Area." 
She was also informed that AT&T would make a donation to the charitable organization of her choice.  Well that would be a "no-brainer"! J   The following morning she was interviewed live by morning show hosts Greg & Fernando to talk about her work with the youth and families serviced by HEART.

An article was subsequently run in the Bay Guardian weekly publication announcing the award. 

Thank you to Maria Luisa Jiminez for the nomination!

101+ Champions for Youth Red Carpet Gala

On the evening of July 16th Ms. Evelyn was honored as one of 101+ adults deemed as "Champions for Youth" by Black Business Listings, at a red carpet gala event,  which launched the Bay Area's 18th Annual Black Expo at the Oakland Convention Center.

The event attended by more than 400 persons included a VIP reception, followed by a Silent Auction, both, which preceded a dinner emceed by the Bay Area's KBLX radio personality, Mr. Timothy Alexander White, who was also celebrating a birthday!.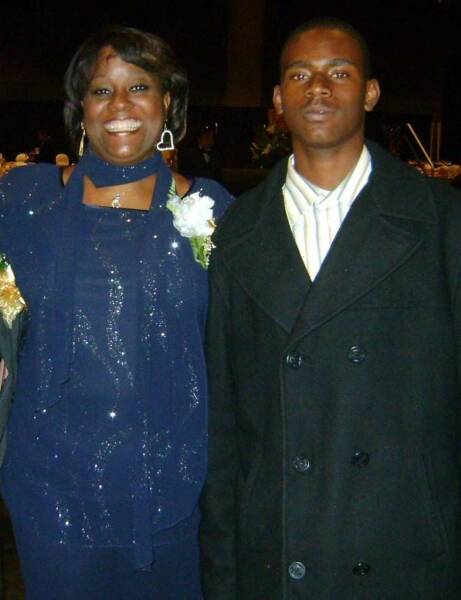 The list of honorees included the likes of former Congressman  & Current Oakland Mayor, Ronald Dellums, Assemblyman Sandre Swanson; Congress Woman Barbara Lee,  Actress Terri J. Vaughn;  Rev. Eloise Oliver,  Ms. Evelyn's own mentor and former pastor, Bishop Ernestine Reems-Dickerson; and others whose works are quite visible both locally and nationwide. Also sharing the honors were
"Friends of HEART"  Van Waller, Lloyd Gregory and Young Brett.
Ms. Evelyn's response to this recognition has been one of gratitude and excitement.  She states "The greatest reward of my work is seeing the change and appreciation in the lives of the young people we've been able to touch; however it feels good to have that work acknowledged by those in the 'business world' and for them to recognize that it's not just about generating financial wealth, but also the wealth of well-being of our children, youth, and communities.  Perhaps it can/will inspire those who do have the financial wealth to invest into the building of the greatest foundation of our future- -our youth".

She adds "it's also exciting to see my name right there amidst those of people I've known of, read about and/or looked up to since my own childhood- -I feel like I'm 'really grown' now! "

A documentary depicting the need and benefits of community involvement in the lives of our youth is being developed and will include segments of the event as well as pre-taped interviews with honorees including words spoken by Ms. Evelyn.

A special "Thank You" to
Dr. C. Diane Howell
and the staff at Black Business Listings for your tireless work in making this an event to remember for us, and our young people; and thank you to "Auntie Troi" ; Janie Bess; Lezlie Cannon and others who sent in nominations.
Well, as if the week wasn't already BIG enough, on the morning of Saturday, July 19th , at 7AM, the Vallejo Mervyn's Store partnered with HEART in sponsoring 25 foster/adoptive youth for a $100/person back-to-school shopping spree!  Although tired from the week's activities and challenged by the early hour, it didn't take Ms. Evelyn long to start flying high as she greeted the 25 smiling faces ranging in ages from 7 to 18, and their caregivers/chaperones. (Thank you "Ms. Kitt" for the Carmel Macciato!) J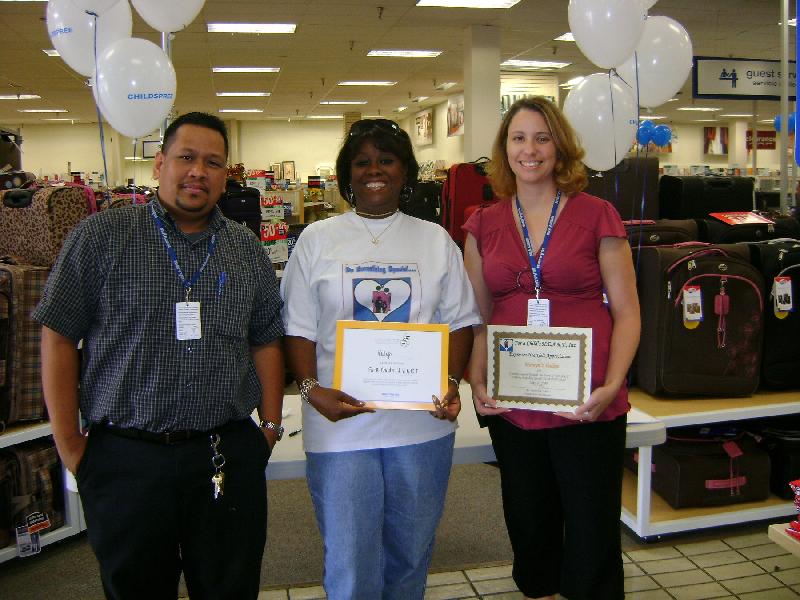 Words can't even express the joy in watching the kids pick out new clothes and shoes-especially knowing the stories and circumstances behind some of them being present.  The sad part, however, was having had to turn many away during the screening/selection process

We can change that for next year, however.  If you are interested in partnering with us to make this event possible for even more children and youth next year, Mervyn's has stated that they will work to match our pledges. It's not too early to start now!  E-mail us if you're willing to pledge to sponsor a child for the ChildSpree next Fall!.

Thank you to Don PeBenito and Destiny, Managers at Mervyn's in Vallejo for doing something special in parterning with For A Child's H.E.A.R.T., Inc.!

A big "thank you" also to Kenneth & Monique Clark, Big Brothers/Sisters volunteers and chaperones who also videotaped the event for us.   You should soon be able to view excerpts from the event on both our website as well as your local public access channel.  Also watch for photos!

CD: "Friends With Heart:  We Are The Village" Reviews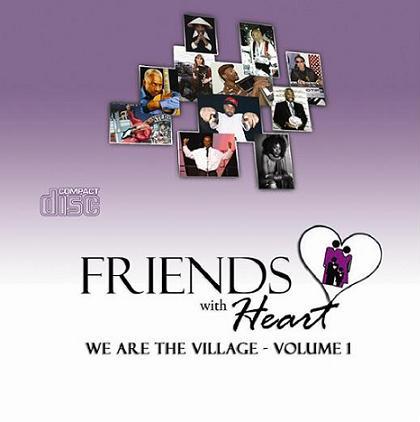 Speaking of which, over the weekend of June 28th  Ms. Evelyn had the privilege of presenting awards of appreciation to two of our contributing artists, Lloyd Gregory and Narada Michael Walden for their generous contribution and support of our first Compilation CD Project.

"Visions..." Television Programming

Thanks to
Kevin Humphrey of KHProductions
,
  intern
Lisa Bryant
, and some wonderful guests, we've got some thought provoking, heart touching fun-filled interviews for YOU!
Stay tuned to learn when and where you can catch these broadcasts.

Kevin

Having moved to New York in July, Kevin is acclimating to the Big Apple quite well . As part of his internship with Paris Nation Design House, he is preparing to attend The Magic Show in Las Vegas, one of the largest designer expositions in the country.

Vina

One of our 2006 graduates, and 2008 scholarship recipients, Ms. Vina, after several challenges ,has successfully registered for the Phlebotomy program at Kaiser Allied Health Services.  Classes are scheduled to begin 9/4 and we know she will do well.  Congratulations Vina!

  We'll share more about what our other youth/award recipients are doing in our next update.

Enjoy the rest of your Summer

and watch for us on a TV station and/or computer near you!  

Hearts & Blessings!





I hope this Holiday Season finds you in a place of peace and assurance in knowing in your heart that despite all of the stress and excitement of  the economy, the holidays, and life in general,  it is well with your soul!

This has been a year of "illumination" for me as I've been able to see and experience significant progress towards the vision I believe God has given me since the inception of "For A Child's H.E.A.R.T.". 

Throughout the year I've made frequent reference to a quote by Jesse Jackson which states:   "Our children need our presence more than they need our presents". 

When you stop to think of your fondest childhood memories, are they filled most with the presents? or the presence of people who warmed your heart?

Well, for this Christmas I would like to give the children and youth of H.E.A.R.T, both!  With the changes in my work and schedule this year, I haven't spent as much time with "my babies" as I'd like, so in celebration of Christmas it's my heart's desire to gift them with more than presents but with my presence in an atmosphere of love, fun, and food, an experience which they can carry in their hearts and memories throughout adulthood.

For several of our young adults, this is the first or second year they are living out on their own and they have struggled all year to maintain their day-to-day survival, employment and academic goals and dreams.  In addition they don't have "family" to gather with and be fussed over by on special days.  Even as an adult I can relate to many of their experiences.

On Saturday ,December 27th I plan to have lunch catered to approximately 20 children and youth served by H.E.A.R. T., and their caregivers, and for each one to leave with a token of love.  In order for me to pull this off and be fully present in body, mind, and spirit, and not distracted by the stress of "doing it right", I need your help.  You can be of great assistance in ways which include the following:

1. Make a tax-deductible financial donation.  You can do so via:

     b.  Mail:  164-Robles Way #168, Vallejo, CA  94591

2.  Volunteer to cater and serve, and/or decorate

3.  Volunteer to facilitate game activities suitable for all ages

4.  Donate Gift Certificates for: Restaurants, Movies, Music; Books, Electronics,     Games, Computers/Accessories; Groceries; Housewares (ie., electric blanket)

5.  Commit to sponsor a young adult monthly for the year to assist with:

       a.  Tuition, books, and materials

       b.  Transportation (ie., bus tickets, cab fare, auto maintenance/repair)

      c.  Emergency Road Service

      d.  Cell Phone Service (flat monthly rate)

I look forward very much to your response and support, and wish you JOY in your Heart!

Hearts & Blessings! 

Ms. Evelyn

Founder & Executive Director